Date: 19th – 23rd March 2023
Location: Nashville Music City Center in downtown Nashville, TN, United States
Attending: Andrea Boscolo Panzin, Annalisa Salvatore, Christopher Strock, Claudio Marcello Marzo, David Cerny, David Straight, Erin Koester, Giulia Forcellini, Josh Gillum, Marco Pergher, Michela Pecoraro, Paul Walker, Ralf Geiben Lynn, Robert Brown, Sergiy Viatchenko-Karpinski, Tom Kaczka
Cyprotex and Evotec will be exhibiting and showcasing their research at the 62nd Society of Toxicology Annual Meeting (SOT) and ToxExpo on March 19-23 in Nashville, TN.
Join our scientific specialists at booth #509-608 and don't forget to include our hosted seminars and poster presentations in your SOT itinerary!
If you wish to meet with us in Nashville, get in touch via the form below, we will be happy to arrange a meeting. And request a copy of our nine scientific posters presented by Evotec and Cyprotex experts at SOT2023!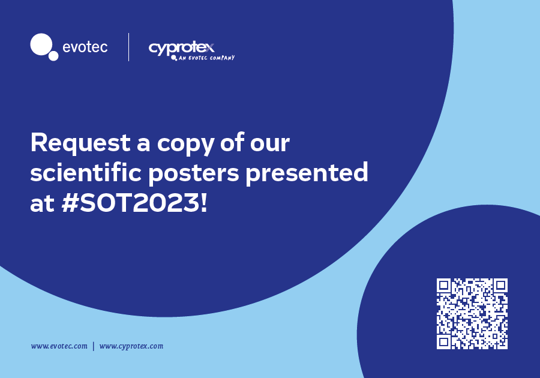 Our scientific program
Exhibitor hosted sessions

A New Tool to Collect, Visualize, and Analyze Drug Development Data: A Revolution in the World of Preclinical and Clinical Intelligence

Cardiotoxicity: Getting to the Heart of the Matter

Presented by: Giulia Forcellini and Andrea Boscolo Panzin
Date: Monday 20th March
Time: 09:00 AM-10:00 AM CDT
Room: 101C

Presented by: Paul Walker PhD
Date: Tuesday 21st March
Time: 12:00 PM – 01:00 PM CDT
Room: 101A

Evotec has implemented a revolutionary platform to collect meaningful study data generated during preclinical and clinical phases. A group of analytical dashboards allows for smooth and easy data visualization and exploration, including KPIs, charts, and tables, making the analysis faster and easier across phases.

We present the latest in vitro methods for assessing structural and functional cardiotoxicity and how these can be applied in improving translation to humans. In addition, advanced techniques such as transcriptomics will be discussed along with a demonstration of their value in providing a better mechanistic understanding of cardiotoxic effects.
Poster presentations

High-Content Screening and High-Throughput RNA Sequencing using hiPSC-CMs for the Assessment of Functional and Structural Cardiotoxicity

Presenting author: Paul Walker
Date: Monday 20th March
Time: 9:00 AM- 10:45 AM CDT
Abstract/Poster #: 3154/P263

Drug-induced cardiotoxicity may result from a functional change in cardiac electrophysiology and/or from a structural change, resulting in damage to the cardiac tissue. In our research, the effects of 42 reference compounds were investigated in a combined risk assessment strategy.

Measuring the Local Extracellular Action Potential (LEAP) with MEA to Enhance Prediction of Cardiotoxicity

Presenting author: Sergiy Viatchenko-Karpinski
Date: Monday 20th March
Time: 9 AM- 10:45 AM CDT
Abstract/Poster #: 3171/P280

The periodic activation and inactivation of various cardiac ion channels enables the regular and synchronous contraction of the heart. Disruption of cardiac ion channel signaling can result in a change in membrane potential and in the shape of cardiac action potential (AP). Local Extracellular Action Potential (LEAP) is a technique which enables non-invasive, label-free monitoring of cardiac action potential in a high-throughput real-time format. In our research, we used the Axion LEAP MEA assay to analyze the effect of various selective and non-selective ion channel inhibitors on cardiac AP.

Validation of Brief-Access Taste Aversion (BATA) as Preclinical Test for the Palatability Evaluation of Pediatric Formulations

Presenting Author: Michela Pecoraro
Date: Monday 20th March
Time: 2:30:00 PM to 4:15:00 PM
Abstract/Poster #: 3133/ P240

The taste of an oral medication is a critical quality attribute for therapeutic adherence and patient compliance, especially in children. The brief-access taste assessment (BATA) is an in vivo screening tool with great promise in providing the assessment of APIs aversiveness that may predict human taste responses. We used the BATA procedure to compare responses to a concentration array of compounds in order to define aversive taste.

Characterization and Validation of Conditioned Place Preference Paradigm to Assess Reinforcing Properties of New Compounds under GLP Compliance

Presenting Author: Claudio Marzo
Date: Monday 20th March
Time: 2:30:00 PM to 4:15:00 PM
Abstract/Poster #: 3215/ P332

The Conditioned Place Preference (CPP) paradigm in rats is a method designed to assess whether an association between the subjective state elicited by a drug substance and the specific environmental stimulus presented during the period in which a drug substance is active can become a conditioned stimulus. In this work, we describe the results of CPP model validation evaluating the motivational properties of known abused drugs.

Validation of a Serum-Free Approach to Facilitate the Development of High-Throughput Immunogenicity Screening Assays In Vitro

Presenting Author: Stephen Madden
Date: Monday 20th March
Time: 2:30 PM- 4:15 PM CDT
Abstract/Poster #: 3130/P237

The generation of anti-drug antibodies (ADA) towards a therapeutic agent can have severe implications with respect to drug safety and efficacy. As preclinical species often fail to mimic the complexity of the human immune system, the immunogenic potency of therapeutic agents and their potential to elicit a human-specific proinflammatory response can be grossly underestimated during in vivo safety assessment. In our research, a high-throughput in vitro approach to immunogenicity screening was developed and the effect of serum-free culture conditions evaluated.

Shedding Light on Lipid-based Formulation Development on BCS II Molecule Enabling an Animal Toxicology Study

Presenting Author: Annalisa Salvatore
Date: Monday 20th March
Time: 2:30:00 PM to 4:15:00 PM
Abstract/Poster #: 3119/ P226

An increasing number of drug candidates discovered by high throughput screenings are poorly water-soluble and show limited bioavailability following oral administration (biopharmaceutical classification system BCS II molecules). This work focused on the development of orally-administered lipid-based formulations for a BCS class II, highly lipophilic (logP 5), and neutral compound to conduct animal toxicology studies and Phase I clinical trials.

Optimization of a Rat DRG Neurite Outgrowth Assay for Peripheral Neuropathy Prediction

Presenting Author: Christopher Strock
Date: Tuesday 21st March
Time: 2:30 PM – 4:15 PM CDT
Abstract/Poster #: 4030/P525

Peripheral neuropathy can be induced by many chemotherapeutics. Symptoms include numbness, tingling or abnormal sensations which can impact on the long-term quality of a patient's life. Animal models used to evaluate these side effects may be difficult to interpret and are labor-intensive. In this study, we further optimized a previously developed DRG assay by comparing the neurite outgrowth responses of a group of chemotherapeutics from different classes as an in vitro cell-based model for peripheral neuropathy.

Improved Pharmacokinetic Profile of a Poorly Water-soluble Compound through the Development of a Sustained Release Formulation for Intravitreal Administration in Animals

Presenting Author: Annalisa Salvatore
Date: Tuesday 21st March
Time: 2:30:00 PM to 4:15:00 PM
Abstract/Poster #: 4135/ P633

Intravitreal drug administrations have become an efficient approach to deliver drugs to the retina and/or choroid with the great advantage of the spatial and temporal control on the release of the payload, avoiding the undesirable side effects of the systemic administrations. This work focused on the development of a sustained release formulation of a neutral poorly water-soluble API at 10 mg/mL concentration for intravitreal administration in animal studies.


Detection of Chemically Reactive Metabolites and De-risking Hepatotoxicity using High-Content Imaging

Presenting Author: David Cerny
Date: Wednesday 22nd March
Time: 2:30 PM- 4:15 PM CDT
Abstract/Poster #: 4278/P141

Hepatic transporter inhibition, mitochondrial dysfunction, and reactive metabolite formation are some of the most common mechanisms associated with intrinsic drug-induced liver injury (DILI). In our research the pan-specific CYP450 inhibitor, 1-aminobenzotriazole (1-ABT), was used in combination with high-content imaging to evaluate the effects of potential reactive metabolites on cell health parameters in hepatocytes.